Life in the Face of War: Political Challenges, Social Responses, Cultural Shifts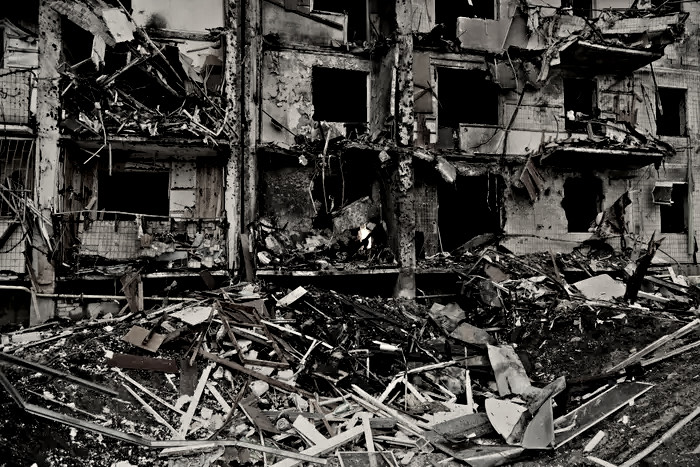 International Conference of the Gagarin Center at Bard College
Location: Harriman Institute at Columbia University, New York
Thursday-Friday, April 13 -14
Russia's large-scale war in Ukraine challenges the modern world and calls into question the phenomena of peaceful coexistence, which seems to have been taken for granted in the system of international politics. For most critics of the Putin regime, the war did not come as a complete surprise. What has been shocking is the scale of military actions and the pace of their escalation. The impact of the war on Russian internal affairs, institutions, and culture has also exceeded all expectations. The goal of the conference is to explore the background and causes of the crisis, internal (i.e., pertaining to the history of the region) as well as global, related to the political interests and direct or indirect engagement of international agents of the military conflict. We will also reflect on perspectives of social and economic analysis of the current state of affairs and the role of education in the war-torn world. The conference will address such subjects as forced migration of academic institutions, international cooperation in education, the boundaries of such interaction, and the possibilities of intercultural dialogue between intellectuals of the countries involved in the war in Ukraine. Following the best traditions of Liberal Arts education, the conference will be interdisciplinary, inviting scholarly contributions from the perspectives of History, Philosophy, Political Science, Economics, Journalism/Media, and Cultural Studies.
Thursday, April 13, 2023
Columbia Maison Française
Buell Hall, East Gallery
515 West 116th Street, New York, NY 10027
8:45 am Coffee
9:00 – 9:15 am Welcome
Jonathan Becker, Bard College
Vincent McGee, Andrew Gagarin Trust
Alexander Cooley, Harriman Institute at Columbia University
9:15 – 10:30 am Panel 1: The War in Historical Context
Moderator: Victor Apryshchenko, Bard College
Aleksei Gilev, Gagarin Center Fellow
Russian Institutional Degradation Before the War: the Case of Local Government
Andrei Rodin, University of Lorraine
Universal Values and the East-West dispute in the Russian War against Ukraine
Ilya Kalinin, Princeton University
"Iconography of the Deed": Memorialization of the "Special Military Operation" Heroes and the Visual Landscape of Russian Cities.
10:30 – 10:45 am Coffee break
10:45 – 12:15 pm Panel 2: The War & Education
Moderator: Jonathan Becker, Bard College
Peter Rutland, Wesleyan University
Social Science in the Mirror of Ukrainian War
Danila Raskov, Helsinki University
The Rise and Fall of Liberal Arts and Sciences in Russia: On the Fragility of Parallel Spaces
Philip Fedchin, Bard College Berlin
The Catastrophe of a Specialized World of Russian Education: Why Generalists Would Be Needed in the Future?
Vera Shengelia, Bard College
Liberal Arts in Catastrophic Times: the Power of Community Education
12:15 – 1:30 pm Lunch
1:30 – 2:45 pm Panel 3: Trauma, Conflict, and Morality
Moderator: Olga Voronina, Bard College
Mikhail Allakhverdov, Gagarin Center Fellow
Role of Cognitive Biases in the Person's Evaluation of War-Related Events
Arseniy Kumankov, Princeton University
The Moralization of War and Opposition to Immoral War
Yulia Kim, Columbia University
A Prisoner of Words: a Poetic Case of Political Polysemization
2:45 – 4:00 pm Panel 4: War and Visual Arts
Moderator: Tatiana Efremova, Columbia University
Denis Skopin, Bard College Berlin, Gagarin Center Fellow
Exploring Photographs of Political Life in Russia after February 24, 2022
Margarita Kuleva, New York University
Philosophers' Uber: How Translocal Communities of Cultural Workers Against the War Use Media and Technology to Survive and Resist
Natalia Fedorova, Paris 8 University Vincennes-Saint-Denis, Gagarin Center Fellow
Distance is a Crisis of Immediate Dialog
Friday, April 14, 2023
Columbia Maison Française
Buell Hall, East Gallery
515 West 116th Street, New York, NY 10027
8:45 am Coffee
9:00 – 10:15 am Panel 5: War & Politics
Moderator: Alexander Semyonov, Amherst College
Sergei Medvedev, Helsinki University
Politics of the Body. The Role of Biopower in the Making of Russia's War on Ukraine
Anna Gurinskaya, Michigan State University
Why Do Citizens in Russia Comply with Mandatory Military Draft Requirements? Insights from the Criminal Justice Theories of Compliance
Evgeny Roshchin, Princeton University
Exile and 'Voice': Reflections from a Russian Experience
10:15 – 10:30 am Coffee break
10:30 – 11:45 am Panel 6: Images of the War
Moderator: Ilya Utekhin, Indiana University Bloomington
Anna-Karin Selberg, Södertörn University
Modern Lying: the War's Role in Political Image-Making
Sergey Toymentsev, Saint Louis University
Memes at War: Social Media Response to Russia's Invasion of Ukraine
Elizaveta Volkovskaia, University of Arizona
Memes and Construction of Identity during the Russo-Ukrainian War
11:45 – 1:30 pm Roundtable 1: Moral aspects of the war: cynicism, hysteria, resentment
Moderator: Artemy Magun
Greg Yudin, Princeton University
Ilya Budraitskis, University of Berkeley
Nikita Savin, George Washington University
Mark Lipovetsky, Columbia University
1:30 – 2:30 pm Lunch
2:30 – 4:00 pm Roundtable 2: Research/Investigation/Activism: Digital Tools for Justice and Understanding
Moderator: Ilya Venyavkin, Russian Independent Media Archive*
Masha Gessen, Bard College
Anna Nemzer, Russian Independent Media Archive*
Christo Grozev, Bellingcat Project
* The Russian Independent Media Archive project (RIMA) is a joint initiative of PEN America and The Gagarin Center at Bard College, made in collaboration with Internet Archive (Wayback Machine). RIMA launches in April 2023.
The organizers would like to thank The Andrew Gagarin Trust and The U.S. Russia Foundation, whose generous support made this conference possible.
To attend the conference, please register.